Live Paradise 19.5N
Unlock the secrets of your own inner Paradise. A mandala FULL of many beautiful elements that make up the powerful energetic experience of the Big Island of Hawaii. It is intended to assist you in "dreaming" paradise into your life, wherever you are. Frequencies support release of anything that is unlike Paradise, so you live Paradise from the inside out. Originally created on Black Carbon -Silicon Sandpaper as a play on turning from carbon-based life forms to crystalline life forms. Energies hosted by Mamakoe the Shark God and Portal expert, the Whales, Dolphins, Sharks, Turtles, Ocean Creatures, Tropical Plants, Flowers, Sun, Moon, Water, Pele and Mary Magdalene. This design broadcasts these frequencies and energies into your living space, bathing your body-mind-spirit with their support.
Design Evolution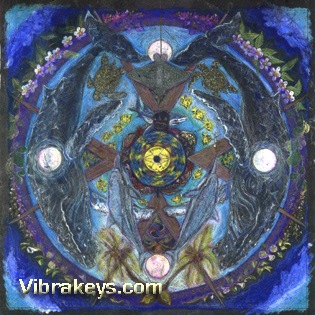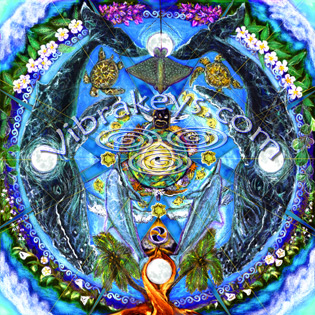 Options & Prices
| | | |
| --- | --- | --- |
| Laminated VK 8.5"x8.5" | $33.00 | |
| Giclée Print 13"x13" | $44.00 | |
See
VK Prices & Formats
for details on formats. An additional shipping surcharge may apply for international orders or mixed Giclée Print and Laminated Print orders.
Related Pages
Features of VK26
Belonging:
restore your interconnectedness
Body-KHAT:
physical body, ability to be fully connected, grounded
Crystalline:
crystalline-based bodies vs. carbon-based
Electro-Magnetic Balance:
balancing electric (masculine) and magnetic (feminine)
Intimacy:
starts within
Magnetic Nature:
return to original nature, useful when overexposed to electrical fields
Opening:
to more aliveness, each other, your heart
Peace of Mind:
experiencing harmony in your body and mind
Vacation:
destination PARADISE, helps you find it inside
War-Conflict:
ending it inside
Related Themes
Ascension
Body-Mind Clearing & Balancing
Cetaceans
Dolphins
Enhanced Environment
Environment Clearing & Balancing
Flowers
Hawaii
Interconnectedness
Living Water
MaRi - Mary Magdalene
Relationships
Whales