Biological Strengthener
Brings health & vitality into the core of our body-soul connection, strengthening the bones and realigning us with the very center of LIFE itself. Includes fun mantras for striking fire and energy into the core of your body. Addresses the deeply held resistance to commitment in relationships, which truly starts within one's self. Strengthens the immune system by enhancing T-cell production. Purifies and strengthens the blood quality. Reconnects us to the Ancient Knowledge of the Goddess restoring StarFire, reconnecting us to the patterns that create immortality in the physical body.
Design Evolution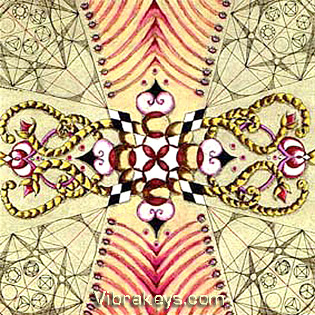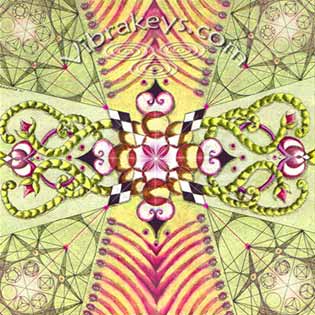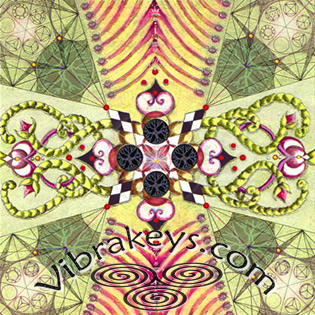 Options & Prices
| | | |
| --- | --- | --- |
| Laminated VK 8.5"x8.5" | $33.00 | |
| Giclée Print 13"x13" | $44.00 | |
See
VK Prices & Formats
for details on formats. An additional shipping surcharge may apply for international orders or mixed Giclée Print and Laminated Print orders.
Related Pages
Features of VK17
Body-KHAT:
physical body, ability to be fully connected, grounded
Bones-Marrow-Blood:
helps strengthen, activate light in
Codes:
activate and make accessible information and coding within the Alta Major
Commitment:
trouble with, solution starts with self
Energy:
frees stuck, increases lifeforce
Immortality:
clear genetic tampering, release distortions, kundalini energize and vitalize, practice ecstasy, turn on more codons, activate Lightbody, Breathe Bliss, Gratitude, Appreciation
Immune System:
strongest immunity comes with open heart and love
Intimacy:
starts within
Opening:
to more aliveness, each other, your heart
Related Themes
Ascension
Immortality
Light Language - Codes - Glyphs
MaRi - Mary Magdalene
Optimal Health & Wellbeing
Relationships
Sacred Relationship
Sublime Health Project