RainbowWater
Changes and energizes water, providing it with vibrational patterns to restore it to a vital, natural state; more alive & pure, sweeter tasting, with more energy for your body to use. Water molecule de-clumps, allowing it to be more easily accessible, more cleansing. Supports the DNA recoding process, activation of the crystalline LightBody. Restructured, energized water is one super way to support your body in this time of great transition.
Design Evolution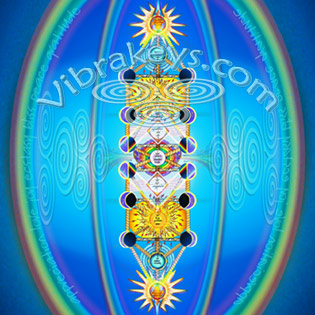 Options & Prices
| | | |
| --- | --- | --- |
| Laminated VK 8.5"x8.5" | $33.00 | |
| Giclée Print 13"x13" | $44.00 | |
See
VK Prices & Formats
for details on formats. An additional shipping surcharge may apply for international orders or mixed Giclée Print and Laminated Print orders.
Related Pages
Features of VK11.5
Crystalline:
crystalline-based bodies vs. carbon-based
Energy:
frees stuck, increases lifeforce
Past:
antidote for living in, completing and freeing stuck energy
Relaxation-Calming:
throughout the body
Sleeping:
greater comfort in nervous system
Water-Emotions:
helps stuck emotions flow, helps with natural feelings being restored
Vibrakeys that work with VK11.5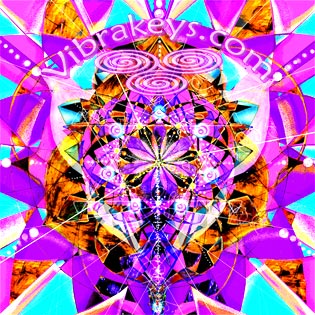 VK31 PeaceMaker
Created on 9-11-2001: As we dismantle our War Patterns inside, Peace will blossom into our outer world. Supports Ascension: Distortion Clears, Magnetic Code Blessing brings balance to an over Electrified world, Strong new Codes from BENEVOLENT Source call the Masculine to cease war and come to a place of balance and harmony with the Feminine. Masculine-Feminine in cooperation are Power and Love side by side. Creative Action! They Build and Nurture life; bringing new patterns of Dynamic Harmony to co-create a Thriving Growing Sustainable Reality. PeaceMaker supports us to live in our own Truth and to learn to release Judgments that keep energy stuck and cause war amd contention. Design Updated 9-11-2011, on the 10 year Anniversary of the event that was used to launch more war. Newly embedded image of Ejahdama
VK36 Chariot of the Gods
, included in the design, moves us past the built in limitations that existed in our previous Adam-Kadmon Blueprint into bodies "fit for the Gods." New Creation Codes called Trinity and Bright Ones Rise are added and shape the Crystalline energies flowing through to you. Design represents a shattering of the old patterns to make space for the New to Emerge.
Related Themes
Ascension
Body-Mind Clearing & Balancing
Enhanced Environment
Feng Shui
Flourishing Garden
Light Language - Codes - Glyphs
LightBody
Living Water
Optimal Health & Wellbeing
Potent Formulations
Rainbows