Potent Formulations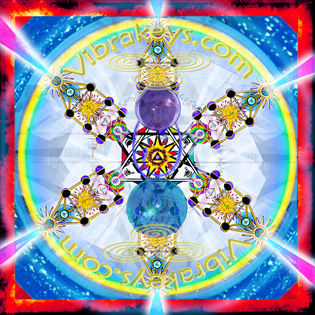 Theme: Potent Formulations
Creation of essences; energizing & potentizing without changing delicate patterns. Alchemy in motion. Create essences, oils, all energetic formulas imbued with transformative energies. Can charge stones & crystals, also.
Related Pages
Related Vibrakeys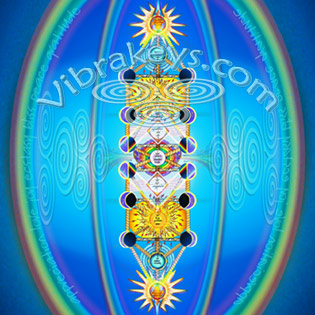 VK11.5 RainbowWater
Changes and energizes water, providing it with vibrational patterns to restore it to a vital, natural state; more alive & pure, sweeter tasting, with more energy for your body to use. Water molecule de-clumps, allowing it to be more easily accessible, more cleansing. Supports the DNA recoding process, activation of the crystalline LightBody. Restructured, energized water is one super way to support your body in this time of great transition.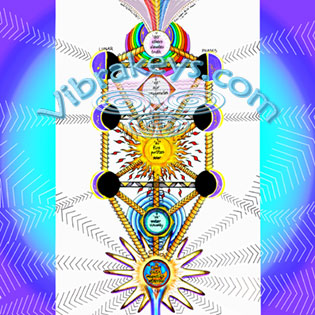 VK11 WaterAlive MasterKey
Great for Moving & Directing Specific Energies for healing or for clearing stagnant energy in your environment. Easy to use for Feng Shui. Helps Focus desired energies from other objects. Creates a refreshingly sweet, full bodied, energized water.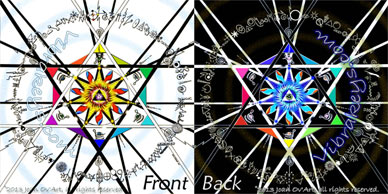 VK13 Universal Library
The Master Engine for the whole Vibrakey grid. It includes 4 Power systems: Pyramid Power, 7 Fold Geometry, Super Collider, All-In-All-Ring made of God's Gold Key and Mother's Silver Ring which is made up of symbols that give access to a Universal Library of information. This is based on ancient Atlantean technology and is even more ancient. There are sounds, colors, names, math formulas, angelic keepers to be discovered within each symbol. Use your imagination, pay attention, observe & open up to the creativity. You can use the Potentizer part of the design to increase the potency of anything you expose to it; food, water, supplements, materials, even yourself. Use it to
build power grids
for healing & ceremony.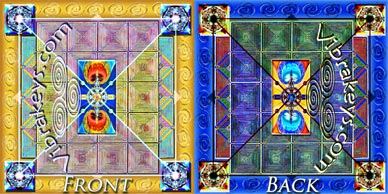 VK27 Golden Pyramid
Contains many evolutionary codes and energies. Much to discover. Learn to be in harmony with & thrive with the photon belt energies & the increasing plasma from the sun. Create a space of energetic resonance & harmony to live in.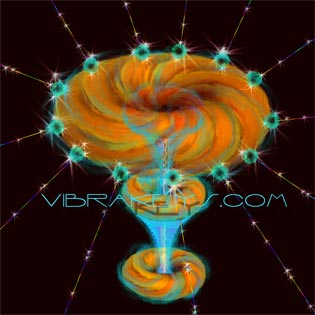 VK35 Telos Generator
A Gift from our inner Earth family. This design is an energetic generator that uses your existing heart field and expands it. It is a super skill, easy to learn, to activate an internal generator. It helps you customize a field of frequencies x13, to raise your energies immediately so healing, transformation and daily activities are more effective. It is an invitation to reach across the barriers of perception and connect with many other dimensional beings to share technology and skills. It is a focusing point, a Crossing in space/time where beings from a variety of Star Nations, and other sentient Tribes (Elementals to Angelics, beings from ALL our Relations) can share their technologies, techniques, and practice new techniques of co-operative living. It is a way to "land" new civilization and live in a new omni-dimensional way together.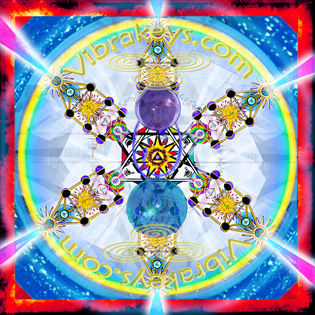 VK42 Essence Imbuer
Create your own Potent Custom Formulas. Energize your Food & Water. Restructures Water & Liquids to support your health & well-being & raise your consciousness. Move & Direct Energies wherever you want them.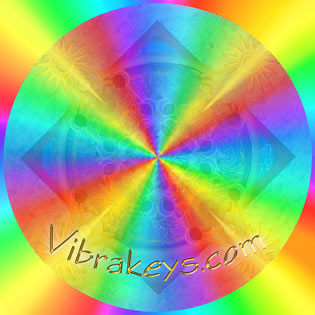 VK46 Rainbow LightShip
Still in the Birthing Chamber: Introduces a new level of LightBody full of the new Metatronic Full Spectrum Rainbow Light. Activated in the pineal gland.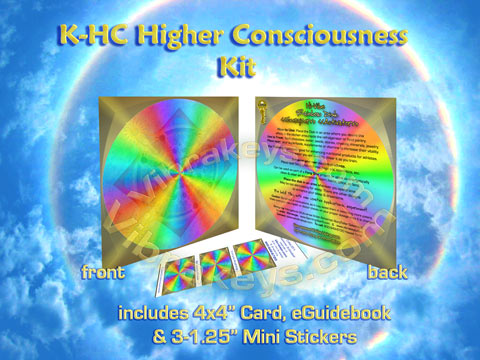 K-HC Higher Consciousness Kit
Raise your consciousness. Clear, clean, enhance, correct & enliven your products or environments to support your awakening and raising your vibration. The alchemy, created by the layering of many key codes & pattern frequencies embedded in this Rainbow Activator Energizer disc, highly charges, energizes & activates.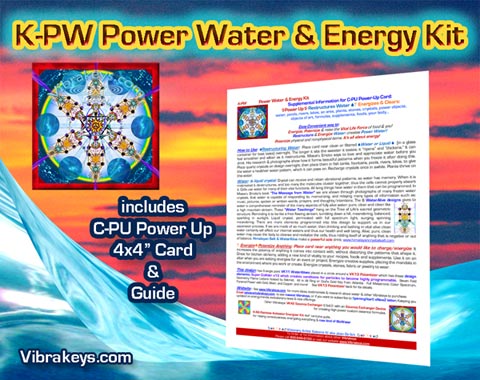 K-PW PowerWater & Energy Kit
This design energizes & increases the potency of anything it comes into contact with, without distorting the patterns that shape it. Restructure & Energizes Water to creates Power Water! Just place the card near anything you would like to charge, energize or clear.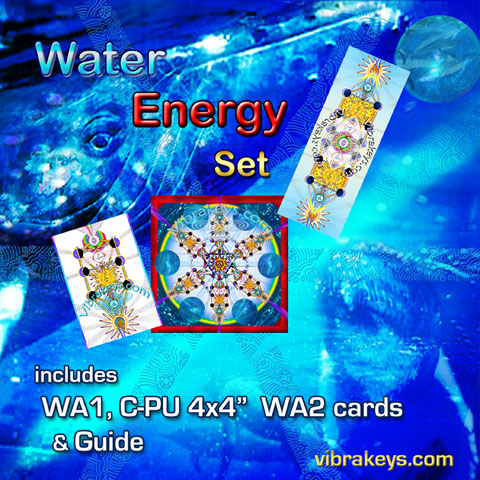 S-WE Water - Energy Set
Water Light and Energy Interplay: Water, Light, and Energy are all creational elements. They work together to create and make life manifest. The higher the vibration in these elements the more vital and flourishing life becomes. In this set we offer Vibrakeys that contain frequencies to support the process of raising these vibrations and our consciousness.